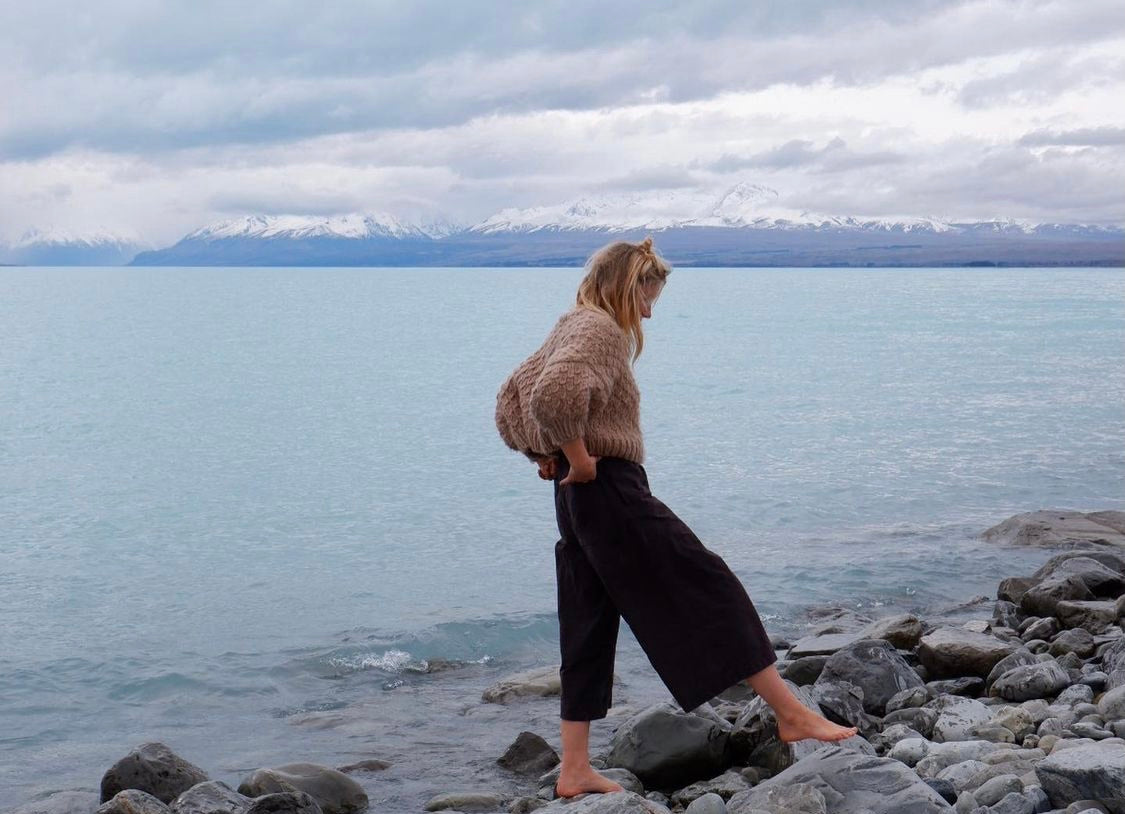 Interview | Haidee Buchanan
I first fell in love with Haidee Buchanan over Instagram, connecting with how she captured little moments of her life – tiny snippets of thoughtful reflections, daily pleasures and iconic design.
We became friends through small exchanges that grew into excited conversations about what inspired us, and I'm so happy the SAINT Classic Silk Shirt Black sits alongside other select items in her well-loved minimal wardrobe.
Here, SAINT got a deeper glimpse into the special moments, feelings, and pieces that make up Haidee's beautifully curated life.
Tell me a little bit about yourself?
I'm an absolute dreamer and an idealist, but often too happily abrasive and still learning to be better with people. I care a lot about the environment and my impact. I'm obsessed with the way a room or space (outdoors too) can make you feel/make you dream, this lends itself well to my hobby projects like A Romance vintage. I've just begun studying horticulture and I hope to study landscape design and architecture eventually. I would love my craft to inspire people to eat from the garden, know wild food and build sustainable, functional and therapeutic outdoor spaces. Foremost, I am Mama to my two wild little boys Winston and Hubert.
What are you enjoying listening to at the moment?
Having two little boys I mostly listen to their cacophonies, ha. I actually love to hear nature. Whenever possible, everything is turned off and I hope to hear birdsong or the dance of palm leaves in the breeze on my little deck. Otherwise I'm likely to throw favourites on repeat like Rejjie Snow, something that feels a bit sexy. I'm tragically behind on the potentials of podcasts.
Who are you inspired by?
I can never answer this. I have so many inspirations, but none are particularly celebrity. Kinfolk team. Local artisans hands-on making their special goods. That woodturner I saw at the local Farmer's Market who had the most exquisite bowls. Rug-weaving seventh generation artisans in the Argentinian mountains. My boys the way they see the world.
What's on your bookshelf?
I'm a big reader of non-fiction. I have a lot of fun reading authors like Alain de Botton, Oliver Sacks and Leonard Koren. They're all a bit philosophical and massage out the beauty and tenderness in being human. Something that helps me forget how shit humanity can actually be, filling me with air again on those sleepless nights.
How would you describe your personal style? What's your daily uniform?
I remember growing up people always told me I shouldn't be wearing this with that. Even on internships for uni I would be pulled up constantly, my hair was always 'messy'. I don't think I have quite lost my knack for being a bit left-of-field, I still dress for me. I hope I always do.
On a daily basis I dress for comfort and function which doesn't need to be sad. I also try to keep a small wardrobe of well-loved and thoughtfully invested in pieces. I'm all about natural and recycled fibres, trying to vote with my dollar always. I love my Ilana Kohn Abe jeans, Post Sole Studio velcro platforms and my I Love Mr Mittens knit for the winter. In the summer time it's my Nu Swim recycled polyamide swimmers and Miss Crabb silk shorts with sandy feet. I own and love my one dress and wear it when I can – weddings, date nights with my brewman and sometimes just to wander three doors down and pick up some fresh bread. That's pretty much half my wardrobe right there!
What is the longest standing piece in your wardrobe?
I have this insanely bright and playful raincoat by Miranda Skoczek for Gorman. It's five years old, has mould spots on the cuffs, but it has such vibe and I don't imagine I'll be saying goodbye anytime soon.
A favourite piece in your space?
I love my home space, it is filled with years of collecting and trading beautiful pieces with my fiancé. We have some special pieces by Australian mid-century masters, like a T.H. Brown and Sons lounge. Our first babe Winston was born on that lounge so it's pretty special. I also love these 1950s carver chairs by Kalmar Interiors that I picked up on the kerb in Sydney. They were and are still in total disrepair but with beautiful lines, so worth saving. I actually love the tactile beauty and 'story' they bring – the woodgrain, their coconut fibre and hessian construction falling out all over the place.
What's on your wishlist?
I have been manifesting a move to the mountains (not too far from the sea) since last year. We're dreaming of a hundred acres of rainforest somewhere like Bellingen, with a sweet shit-shack made of old stone, wood and glass that will be our life project. I grew up in the mountainous hinterland and it calls me back, I've had my beautiful time with the city lifestyle. That would be my number one wishlist item.
Signature dish/what are you currently cooking?
Always pasta. Those tiny, wild-like cherry tomatoes and herbs from the garden, sometimes JJ makes fresh pasta with the boys and they love it. We make a salsa verde of sorts with our nasturtiums, basil, mint, carrot tops, parsley, rocket, anything really. Together with a fresh cherry tomato sauce it is radiant and I feel like I'm truly eating nature's bounty. There's something deeply rewarding about eating so directly from nature, there is so much flavour too, it's kind of sexy?
I'm pescatarian as of this year so each week I treat myself with half a dozen oysters and make it a real self-romancing scene too. With a drizzle of fresh lemon I still swear it's like eating the ocean. I love the shells in my garden. You'll also find me guzzling down a pet-nat or other natural wine whenever I can afford it. Natural food and drink is really important in our house.
Favourite words?
Oddly enough, at the moment there is a book title from my endless list that says so much to me – 'on earth we're briefly gorgeous' by Ocean Vuong. Words that can ring through every part of our lives and remind us of our impermanence and the incredible opportunity that is life. I have little reminders here and there in my home to remind me to come back to the glory when I start to feel overwhelmed or just plain pissy.
When do you feel most yourself?
Floating in the secluded ocean or a freshwater swimming hole, under the water in a reef, wandering in the mountains. There has to be a lot of trees and nature for my soul to thrive, but then coming back to a Napoli style pizza (straight out of the box) and wine on the lounge room floor with my boys and man is the dream.