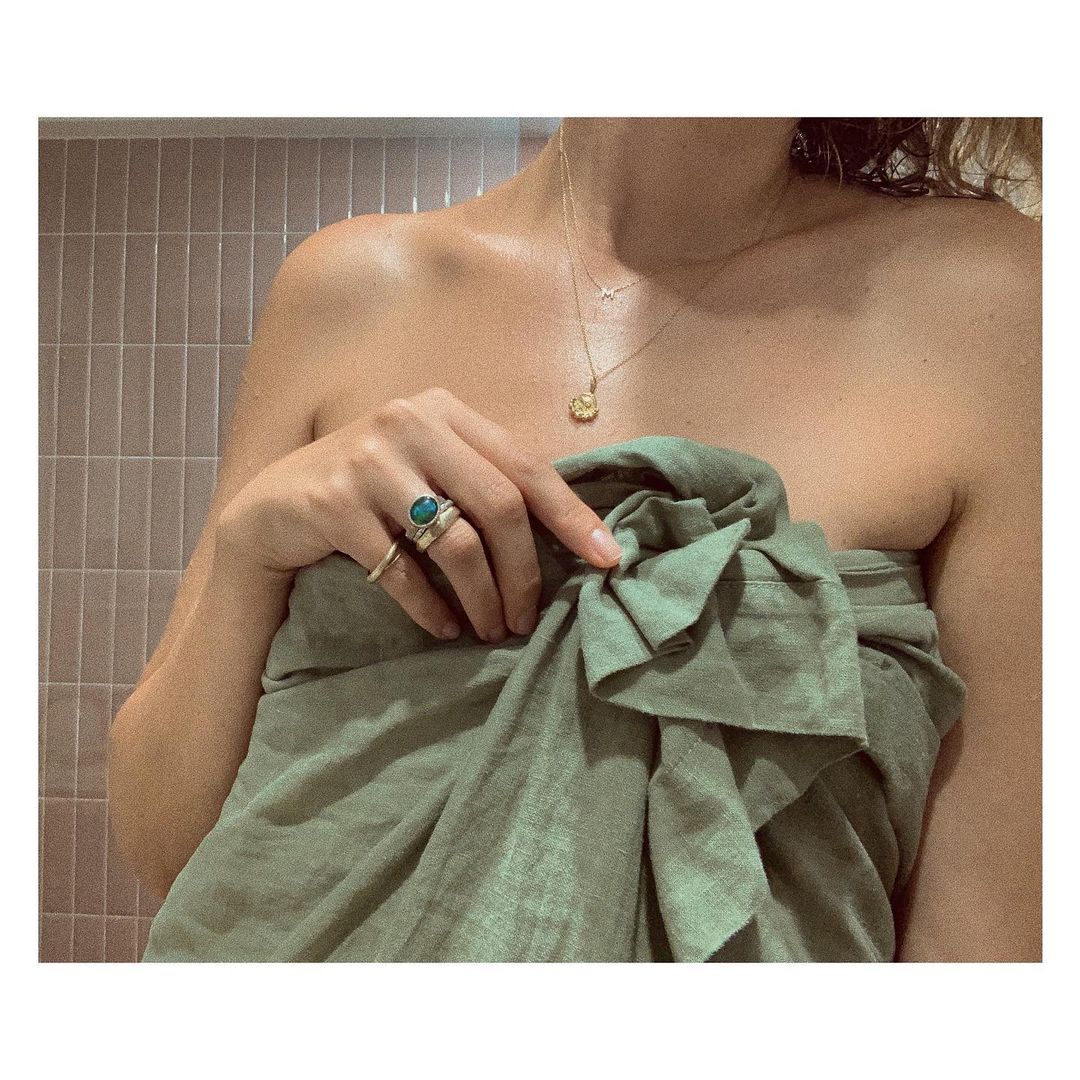 Interview | Jes of Dazed but Amazed
Rose gold evenings, sun dappled skin, backyard stake outs and 70s surf shack interiors with an Art Deco / Australiana twist. Following Jes' linen line Dazed but Amazed is more than being served up superior bed ensembles, it's being brought into her family and truly feeling like part of the journey. 
Her intimate, honest musings and signature sun-dazed content style have caught the attention of a loyal global audience, with her hand-dyed linen gracing the bedrooms of some seriously high-profile customers.
Jes' ability to balance and blend different or competing pillars of her life seems to mirror the way she curates her mixed-muted tonal sets – it's not uniform or linear but it's like that's the way it was always meant to be. Perfectly imperfect.
Jes wearing the SAINT Classic Leather Belt with the dazed but amazed French Linen Heritage Slip
Tell me a little bit about yourself?
Woman, Mother, Wife, Friend, Creator. Layering tonal curated colours for the home... mostly. 
Creating linen to be lived in with a growing collection to be worn. I'm a juggling act that is mostly trying to keep the balls in the air and just hoping the ones that are inevitably dropped are rubber and bounce.
What are you enjoying listening to at the moment?
Current favourite artists for unwinding or working and on constant repeat are Emily Wurramurra and Sault. To unwind of a night time I usually do a Sarah Blondin meditation, practicing gratitude daily. 
Who are you inspired by?
Oh gosh, honestly, I feel the majority of my inspiration comes from the ultimate Queen Creator – mother nature. The sea, the sky, the evolving shades of the day. How all things can evolve through the space of time and how natural light effects everything. Nothing quite like a nature bath to immerse the mind... With a fresh mind, inspiration is everywhere really.
What's on your bookshelf?
I love reading and a good tangible book. I can't get into e-books; I need to feel the paper and turn the pages. Immersing myself in a book is a true luxury I don't get to do as often as I like, so when I do – it makes it all the more special. Favourites include Joan Didion – everything, Patti Smith – Just Kids. This year I joined a book club, and an early read was a poetry collection by Queer Indigenous Australian Ellen van Neervan – Throat. It took my breath away... highly recommend.
How would you describe your personal style? What's your daily uniform? 
You know, I find my style a really hard one to articulate and something that only now in my late 30s I have finally come to feel is absolutely ok. My style does not have to be easily definable.
I care deeply for clothing. Always have for as long as I can remember. But it is varied. Effected by my mood, comfort is always key, some days I'm a walking layered rainbow and others understated and minimal. I love vintage, I love designer, I care for fashion and shape. One true consistent is I am almost always in oversized silhouettes. Shoes are my weakness and true love and feel they can define and finish every outfit. So in a long winded way... there is no daily uniform. 
What are the longest standing pieces in your wardrobe?
If nothing else, I am loyal and sentimental so there are some very long-standing pieces in my wardrobe. Having had two babies, my body has bloomed and evolved. But some things I just can't let go of, and I'm also getting to an age where fashion trends are returning haha.
My Year 10 formal dress was a bright pink silk slip dress I bought from an up-and-coming designer in Paddington (over 20 years ago) and still hangs in my wardrobe. I also have a vintage thick leather women's racing biker jacket I bought at Portobello Road markets in London while living there nearly 15 years ago, I still wear it every winter. I even had it tailored by an S&M leathersmith in Surry Hills when we returned so it fits me across the shoulders like a glove.
A favourite piece in your space?
I adore creating our home. I have a chair obsession. I have an original 1970s Arne Norell sofa and last year I purchased my dream vintage lounge – the Ligne Roset Togo... that and my growing collection of original artworks.
What's on your wishlist?
The truest luxury of a busy woman – time off. With a growing business and an extremely small husband and wife team, taking true time off and properly unplugging is really hard. Working on actually closing the business for a few weeks to efficiently take some time for myself and be fully and wholeheartedly with my family for more than just a weekend.


Signature dish/what are you currently cooking?
Anything and everything by Hetty McKinnon. My favourite cook – I have all of her cookbooks – she is Queen of the elevated salad. There is a charred broccoli and chickpea recipe I have made so often over the years it's etched solidly into my brain and served often. If you ask my two young sons, it would be bolognaise (which is actually my Italian besties family recipe – cheat!) but a regular in our household.
Favourite words?
"You are either in your bed or in your shoes, so it pays to invest in both" – John Wildsmith
artist
"I can't really pinpoint a certain one person, but I am so in love with fashion in the 90s... campaigns, editorials, Kate Moss, Tom Ford for Gucci, all the menswear suiting."
Read more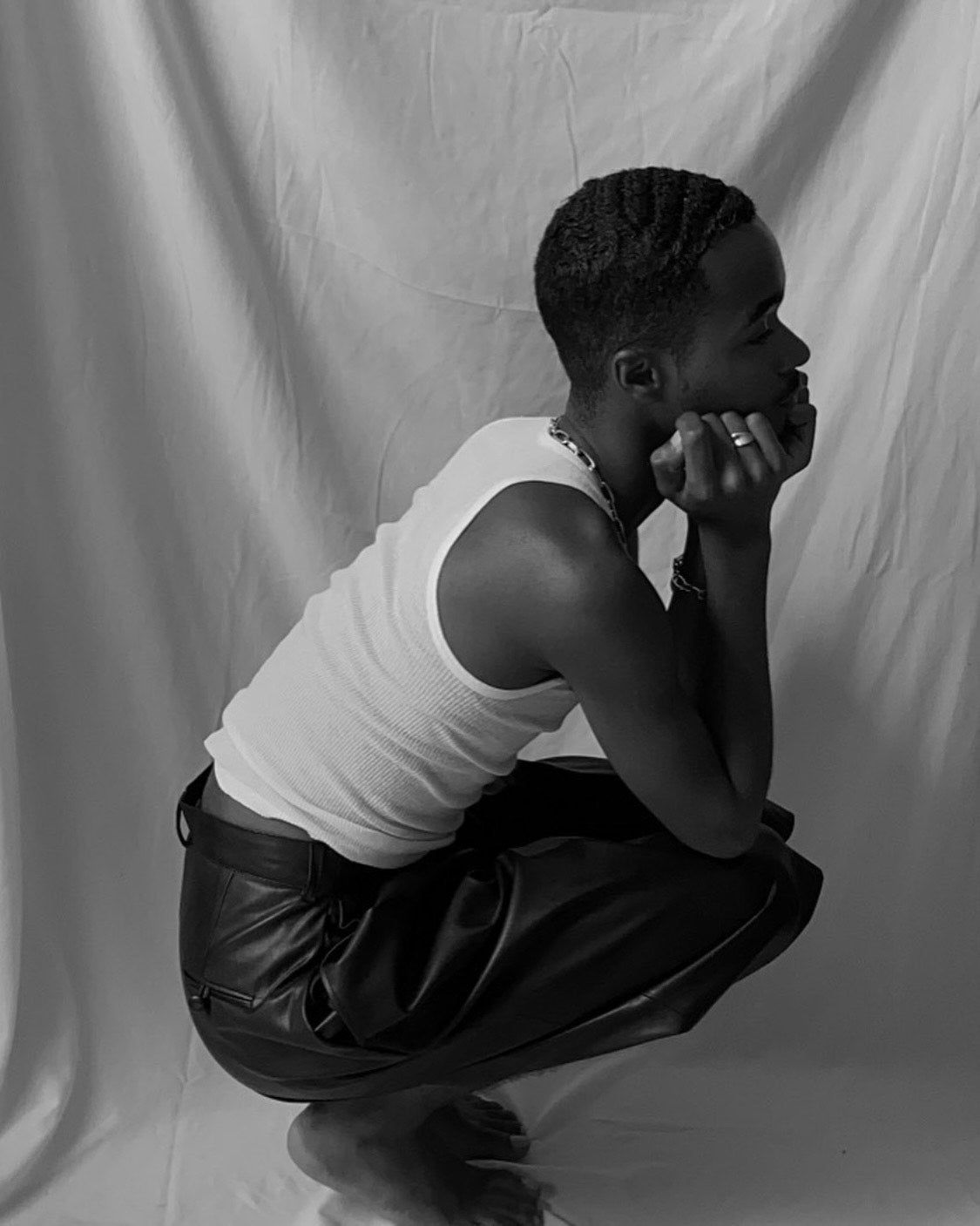 creative
"When I am not directing – I am an observer, seeker, and intimate friend, brother, son, and overall student of life."
Read more