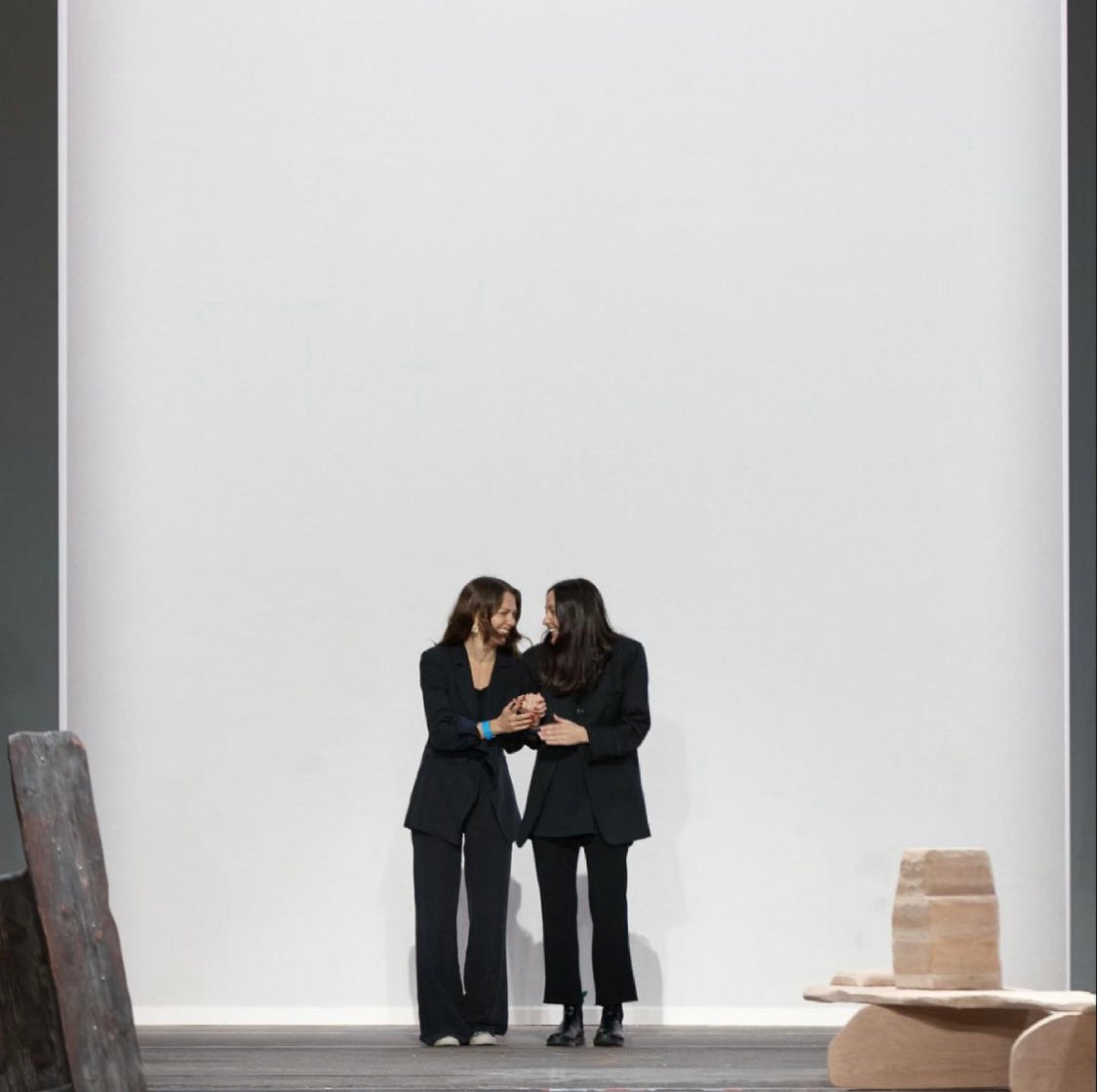 Interview | Lara ~ founder and creative director St. Agni
The St. Agni aesthetic of strong, simple and classic pieces with beautiful tailoring is something that rings true to SAINT's own designs, albeit with finishes and fabrics that pay homage to its relaxed Byron Bay setting and flagship concept store.
Founder & Creative Director Lara Fells is a woman on a mission, with a multitude of creative pursuits, new business ventures and personal milestones underway at any one time. She's someone who looks to live and breathe the values her brand stands for, instilling a sense of understated recognition and continuity through all her projects.
SAINT was invited to St. Agni's stunning runway at the recent Afterpay Australian Fashion Week – a stand out favourite look of ours was the asymmetrical scarf top worn by model Manahau Mackay (see end images) – and we caught up with Lara to hear more about the growth of the label and her own inspirations.
What were you doing before you launched St Agni?
I grew up in Tasmania and I worked in retail since I was an early teenager. I loved my time in retail, I think being customer facing gave me invaluable knowledge of what people were seeking and couldn't find. I'm extremely grateful for this hands-on experience.
Did you envision St Agni at Australian Fashion Week when you started the brand?
It's hard to say! I'm humbled every day when I think about the growth St. Agni has experienced, certainly over the last two years. When I started St. Agni, we designed footwear and accessories, and as we have moved into ready-to-wear, we've really found our voice and place as a brand in the industry. I never would have anticipated being part of Fashion Week five years ago, but it was such an incredible experience and definitely a "pinch me" moment. To be one of the brands standing next to the big-name Australian institutions was a huge moment for us, and hopefully one we do again!
What was your initial idea for the brand vs. the current trajectory?
I started St. Agni during a time when statement accessories were dominating the market, and although I can appreciate those trends, I conceptualised St. Agni from the styles I couldn't find. It evolved pretty quickly from there. St. Agni has become about creating pieces that become permanent fixtures in your life and expand on your personal brand. Each piece is designed to be pared back with previous and future collections. There has always been consistency in creating pieces that cut through what can be a noisy industry, and pieces that transcend trends. The current trajectory has only expanded on what the offering includes and the incredible team we work with. The goal has always been to continue to refine and develop our current strategies to better ourselves in areas of sustainability and recognise our environmental and social responsibility. 
What advice would you give for others in the fashion industry/design space?
I would have to say follow your gut. I don't think there are key words of advice anyone can follow to achieve success as a formula. To me, St. Agni never felt like a question, it felt like a driving force of something I knew I wanted to do. My advice would simply be to keep taking steps forward to create and share with your community, and that growth will naturally come second when you are creating pieces and a brand you personally believe in.
Tell me a little bit about yourself?
I'm a wife and mum. Most of my days are spent in the office with the team, which I absolutely love – our team is so passionate and energetic. I grab a croissant or a bagel from the daily counter or if time permits breakfast at Bayleaf Cafe and then I drop my son off to day-care. My plate is pretty full between St. Agni & Ziah as well as being six months pregnant with my second son, but I try to make time for myself with little rituals – I love starting the day with a walk around Byron. Weekends at the moment are spent approving finishes on our home renovations but generally speaking any time with friends and family is what I love, and a good horror series on Netflix…
What are you enjoying listening to at the moment?
I am quite open minded when it comes to music and podcasts. The team won't usually let me choose the office music, so I tend to listen to whatever is playing and that is very dependent on who has the Spotify login… I recently listened to a Lady Brains podcast with Lizzy Pike (founder of Face Halo) who was one of our generous sponsors for Fashion Week. It is amazing to understand the stories of other business owners, and hearing what she is doing for the environment was inspirational. Definitely one I would recommend. 
Who are you inspired by?
I love anything minimal, structured and strong. My style/inspiration is pretty consistent from work to my personal life, and I love supporting the local artists in Byron Bay. Our office shares the building with Yeah, Nice gallery, so I'm lucky to be exposed constantly to new artwork. Currently Yasmin Bawa & Lex Williams are huge inspirations, both to St. Agni and my personal life. 
How would you describe your personal style? What's your daily uniform? 
I am living in a button up shirt, knit pants and a blazer… on rotation with a clean white tee. My daily uniform is a mix of archive St. Agni Pieces and new samples I can't resist.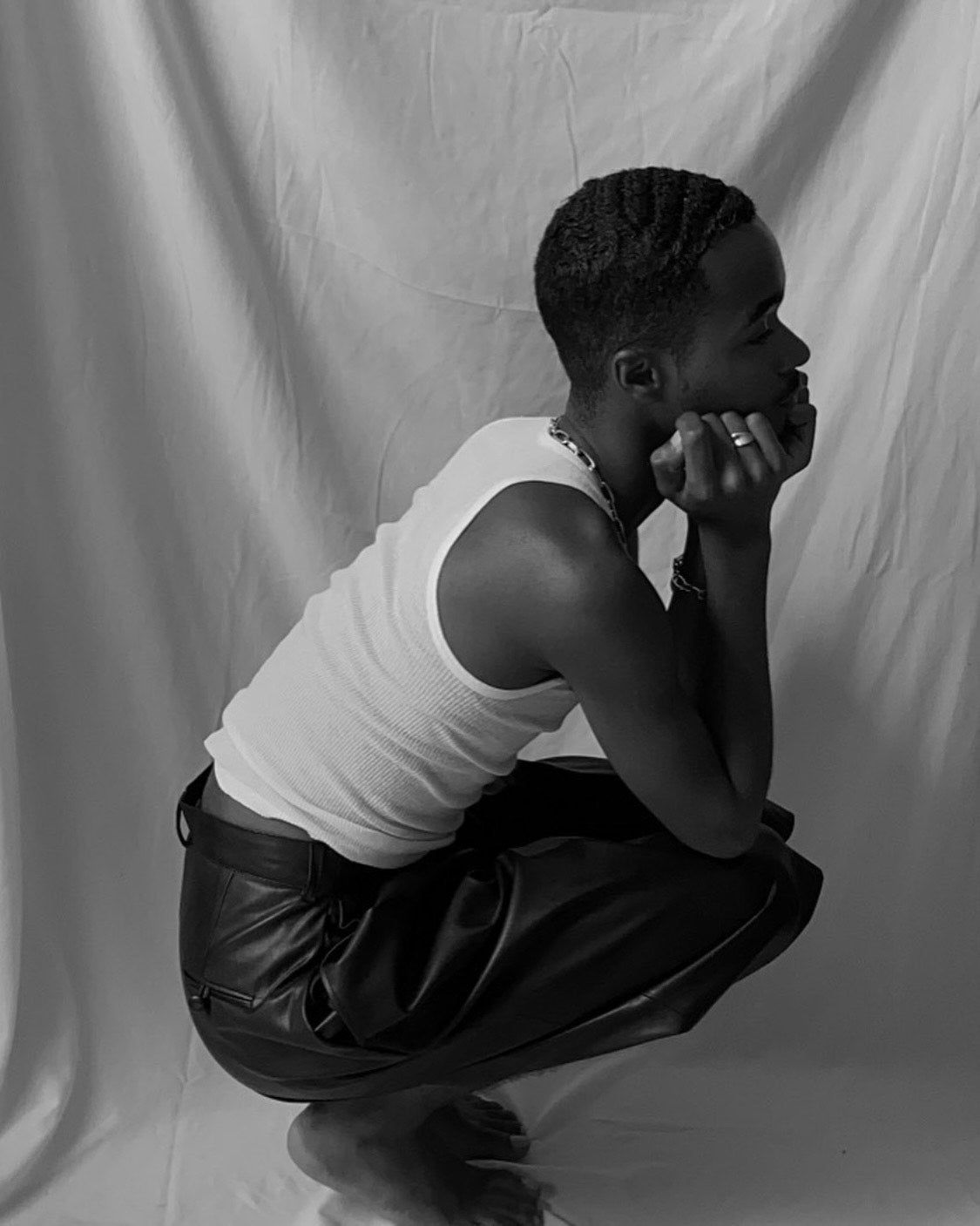 creative
"When I am not directing – I am an observer, seeker, and intimate friend, brother, son, and overall student of life."
Read more